~ Tarajories ~ Hill of Health ~
~ The Heart of VibraHouse: The M A X ~ Q Light & Sound Therapy System ~
Utilizing and enhancing the pronounced subtle energetics at this location, find, or more accurately, would have found, the incredible, one and only anywhere on the planet, MAX~Q. Maximum Astrophysical Xenogenesis, just for fun, and the Q, of course, stands for Resonation. MAX~Q is also an aeronautical term referencing a situation or force hitting it's maximum status or maximum resonance. Applying the name in all its facets named and unnamed herein, our MAX~Q would certainly offer this in the healing, relaxation, and consciousness arenas, as well as its party hardy quotient. This portion of The MAX~Q was the singlemost important element to The Owner. The plans were ready before the construction of the new addition to house it, however, the totally suppressive workforce and lack of cooperation on the home front, lack of understanding or caring on all counts precluded getting the unit in then, to date. All the underpinnings were installed by The Owner herself, however, and await the final installation which would have been in the completed materials cost range of around $500 in 1993 with only a bit higher cost if constructed at current pricing, a modicum in comparison to its wealth of benefits. Click on the placeholder jpg below to see the entire expanse which will house MAX. It fits nicely in its angular presentation with plenty of room for the 6 foot 1 inch concert grand piano in the southeast corner, an equipment rack or other arrangement in the northeast corner, and the remainder, our Danse Therapy floor in the midst, with 2 sets of stereo in-floor transducers installed and in use since 1996 without fail. The new ceramic and granite tile throughout the Main Manor, 2011 has nixed use of the Atrium Danse floor arena as it was. Transducers are still in the floor, HOWEVER, if turned on, will pop the tile OFF the floor! LOL! A raised platform will put the Danse area back in business. The Diamond in the front bay is still ready to rock & roll, noted above. It can be used in the interim on the 12 foot window seat with head facing north and feet to the south... or to the fire, if you will. The 'Light' portion of the Light & Sound Therapy System is delivered by an 8-color wheel SuperVision fiber optics unit and other specialty lighting and 16-color LED on remote state-of-the-art specialty lighting. Let's make it a Win~Win situation. Complete the MAX~Q and renew! Just hit your back button to return.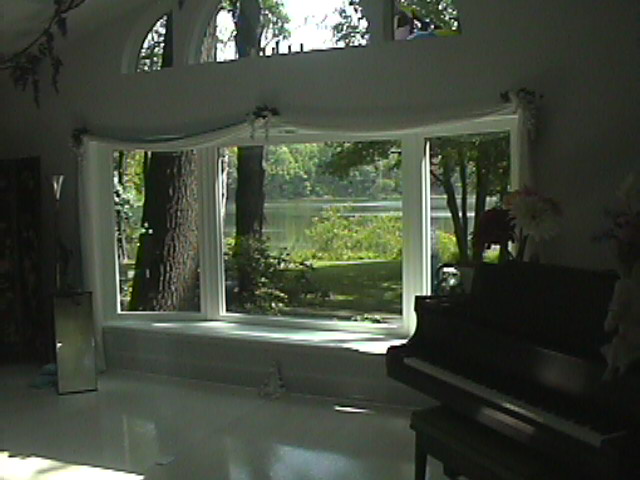 What the MAX~Q is and what it will afford The New Owners: Form follows Function, Furniture! Functioning as two 9 foot couches in its disguise for maximum seating when otherwise not in use via its removable, center triangular bolster-back, this multifunctional unit floats just inside the 12 foot front bay window in the atrium, at first glance, hidden from view. Simply, one just lays on it as one would a waterbed, but sinks deeply into its Light & Sound Q enjoying the depths of relaxation and rejuvenation on many levels, among other benefits. We say, 'floats' because its construction will insulate it from vibrating any structure of the house underneath to eliminate any degradation or cracking of the foundation, floor, frame, plaster, windows or skylights. Its positioning in the home offers not only maximum use of space but maximum viewing in all directions including the 8 back-to-back overhead skylights. When used to its maximum potential, it offers views of its companion starfield loft and white screen above as tools of the trade for meditation, contemplation and/or prayer, imaginal and remote viewing techniques, mental and imaginal projection, vision teachings, and other high-end facilitation. The MAX~Q offers maximum Vibrational Medicine therapy with its built-in transducers, audio monitors, and headphones delivering the sound therapy portion, with the fiber-optics and additional specialty lighting delivering the light therapy portion of the total experience, currently hardwired with room for future enhancements, and ready to rock & roll. Serving multifunctionally as noted, MAX might also serve as a 3rd bedroom in the main manor, our first choice for the master, GREAT for the 'Kids' pajama parties most likely accommodating 6 little ones, with The New Owners in option. Click the MAX~Q 'tools' jpg below to discover a wealth of information re: Vibrational Medicine after a thorough review of its simile: Life Vessel Santa Fe: Now FDA Approved! And... Turbosonics USA with its in-depth scientific technical report on how and why it works, years after the fact. Did they copy me... AGAIN? Hey, what can I say... Just a LITTLE ahead of my time AGAIN... Please don't bore ME with any more ridicule, thank you. Starting with frequency pioneer, Sherry Edwards, to get your frequency reading, free software available, currently installed in the computer tower in the northeast corner ready to go with full feedback system in the wings... then on to how to feed your missing frequencies and other needs back into your body, your being, your spirit. Tune up with LOVE 528 and other helpful links below... as fast as possible. Then GET 2 Work!!! Alkalize. Neutralize. Antidote.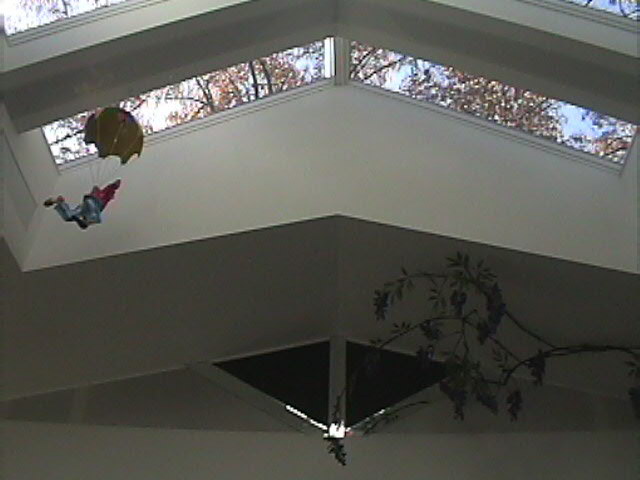 .


Vibrational Medicine is the medicine of the future NOW. A similar example finds cataract surgeries now being performed with the use of ultrasound rather than the outmoded scalpel techniques, and many other outmoded modalities are turning to Light and/or Sound Principles in kind. No, you won't be performing surgery on the MAX~Q, take a break, but the example of sound and light now being used in current medical practices serves as evidence of its effectiveness. What you will be doing on the MAX~Q is relaxing into depths never experienced before, unless you own a similar unit such as the VibraSound from InnerSense~MindWave linked at the bottom of this page. Our unit was on the books before our discovery of the VibraSound or BETAR [Bio-Energetic Transducer Aided Resonance], similar but not quite as effective, but we were unable to construct the unit due to impassable suppression as noted. Pointlessly unfortunate. The New Owners will also be using the MAX~Q for healing therapy in many facets; physical, emotional, mental, and spiritual, as well as its support and benefits in consciousness work, and bringing forward dormant, undiscovered faculties. More on these facets will be offered en future should one inquire and instructions will be left with The New Owners with the plans. For the time being, please enjoy the links throughout this page for more on how the above mentions may be employed. The MAX~Q is also extreme in its enhancement of creative, meditative and visionary pursuits, as well as practice and processing of higher mind and soul functions which will surface if they have already not, as an added benefit of simply using the MAX~Q in its initial offerings. The sparkling starfield loft jpg below with its stained glass Interdimensional Communications Device bejeweling the interior offers just one more avenue to dissolve into the greater ranges. Just click on it to avail yourself of more info on Light & Sound Therapy.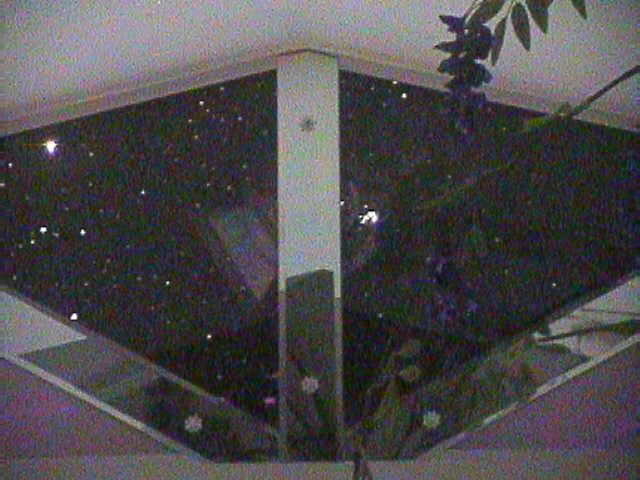 Our MAX~Q would be constructed of a diamond-shaped platform housing its diamond-shaped waterbed mattress for maximum resonance delivered by either or both ~ 4 Aura Bass Shakers as used in other facets of our built-in Sound Therapy System currently installed and in use about the home, and/or, the larger center transducer from InnerSense, redundant and possibly over the top with its addition [not calculated in 1993 materials list]. You don't want to bring down the house, you just want to bring up the Q! Certainly most people understand the principle of resonation exemplified with an opera singer shattering a champaign glass. Such is the principle as applied to bio-technology with every level of human anatomy, physical, emotional, mental, spiritual, electromagnetic, [electrical fields, meridians, etc.] chakric, auric, and aetheric, all having frequencies that can be resonated defusing and removing blocks resulting in the desired flow. Note: Just a tidbit in the realm of healing tips; congestion ~ flow, it's that simple, with congestion causing illness~imbalance, and flow creating health~balance. Learning to focus and apply the subtle energetics enhanced via the currently installed facets of the total MAX~Q to the various levels or planes of bio-technology has been an exhilarating and enlightening endeavor for The Owner just in having used the Danse Therapy and Tonation arenas with Light & Sound Therapy Systems currently installed. The New Owners will also receive many benefits to the power of 10 with the addition of the long awaited, extreme MAX~Q. Overhead and under-platform lighting components as well as audio monitors [speakers] are both incorporated into our design with all wiring and hardware installed in wait with the optional addition of new wireless headphones and other wireless components. A variety of CPU-based feedback devides are also available now to track on'e progress. Follow the dots on this old and tattered drawing for the gist of how MAX fits into the 12 foot bay window. Just click the drawing below for more on these subjects from the world renown Institute of Noetic Sciences.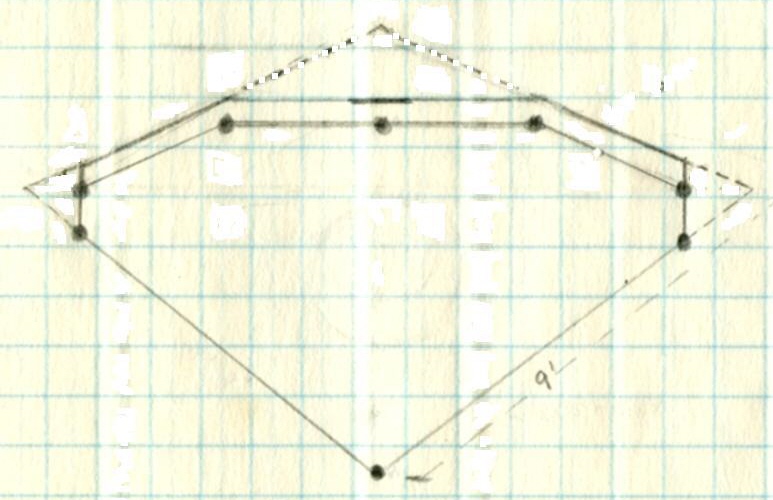 The Owner used the existing Light & Sound Therapy System to recover time and time again, more than once from near-fatal and terrifying chemical injuries from OSB and other construction materials, unwitting at the onset. Non-toxic materials are now available but it took 12 years to drag the industry to that point, as usual, some of whom still lag behind, as a word to the wise. Had the MAX~Q been available during this time, recovery from the above, beginning in 1993 and a broken neck in 1994, both without surgery or traditional medical care of any kind save the few M.D.s or D.O.'s practicing alternative medicine, a master homeopathic practitioner at hand, [Dr. Delores Spence, PhD who helped save my life on the first unwitting near-death injury] and The Owner's saving grace, LPT & Myofascial Master, Doug Greenwood, would have been even faster and deeper with much less exertion, a big plus for This Owner. Search out Michael Hutchinson of MegaBrain for his story of recovery from near-fatal injuries using similar technologies. The Owner's entire 18-year episode of repeated injury was totally avoidable, and way over-the-top in demonstrating miraculous recovery in the presence of enemies. Click on the atrium skylights jpg below for a peek into the website of the father of healing sound, the Master, Dr. Steven Halpern, whose music was and continues to be used in The Owner's healing regime and journey into the greater ranges, inner planes and peace.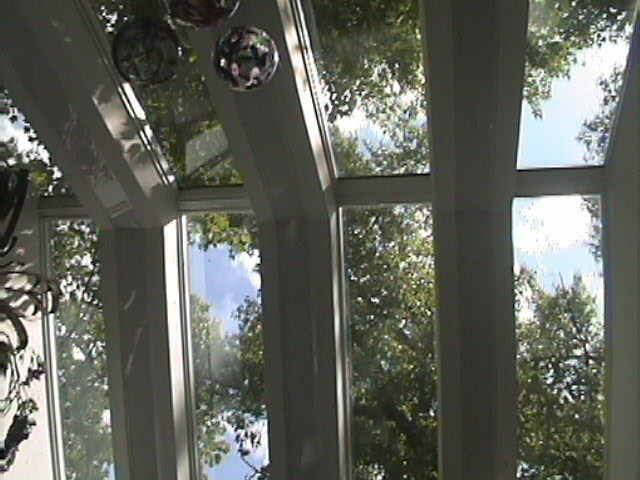 Linked below is the latest information and articles from Sacred Traveler, Shirley MacLaine's, fabulous website covering every facet of the spiritual domain and work, with these in focus of Sacred Sites, such as Tarajories. Click on the links below for the articles explaining Sacred Sites and on the LightSpheres photo below for a first-hand look at the evidence of Sacred Light here at Tarajories, or so we feel, in just one of our true and amazing 'Stories of Tarajories.'
Sacred Sites
Sacred Sites of the Heavens
Sacred Locations
Earth Energy
The Most Sacred Site of All: The Soul
Why Go to a Sacred Site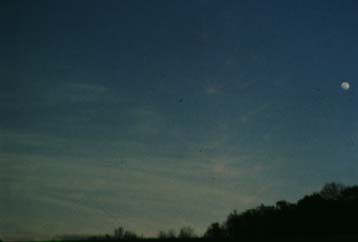 A bit more info on similar technology utilized in creation of this 0 ~VOC, MCS-safe VibraHouse: Light & Sound Therapy Retreat, and The MAX~Q enhancing and utilizing the natural subtle energies of Tarajories can be found via the blue globe links below. TurboSonic USA gives a concise encapsulation of the technology: what it is, how it works, and what results to expect. They do not, however, go into expectations of the greater ranges. That, is specific to The MAX~Q, and in wait of the next owners... Keepers... researchers... experience and data reports, forthcoming MMMmmmmm R & D! My FAV! You GO Kidz!











Zillow ~ The Concise Version for a Quick Look or Ease of Sharing
Stories of Tarajories
Links to Affiliate Website Listings and Comps with Nothing on the Globe to Compare
Beautiful Tarajories Blog by Doug Cottrell
Back to Text Explanations Page
Photo Tours Revisited
Table of Contents
Casual private bidding suggested @ $2,599,000... for those who know, original list price now reduced to $1,997,000 USD good until May 31, 2011. Due to the uncertain nature of the 12-21-2012 prophecies and continued devastation around the globe in evidence, we will be incrementally increasing the price to our initial list as we are self-sustainable here and time is growing too short to get set up elsewhere as survivable as we are here. Drive-thrus welcome. Preferably shown with advance notice, but not required. 3% commission if your contact buys so spread the word!
Contact: Evan @ 1-260-495-3211, Indiana USA, Eastern Time

0 - VOC Greener than Green Interior, too!