T a r a j o r i e s
~ Hill of Health ~
~ North East Indiana USA ~
~ $1,995,000 ~
~ $10,000 Finder's Fee Offered Prorated ~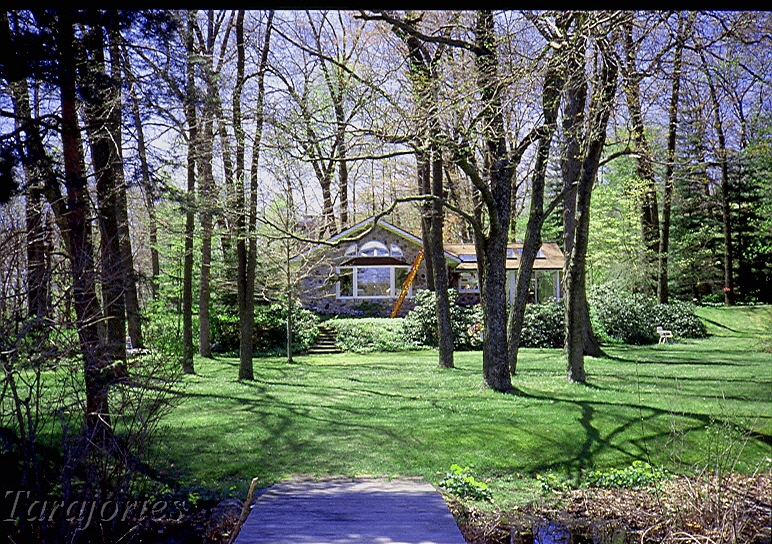 Temporarily back on market with much trepidation, so act fast before we change our minds AGAIN re: this one in a million, private, pristine paradise.
2021 Price Reflects Our 'Safer-Than-Most' Location and Sustainability. 'The Package' includes almost 5 full, private, gated acres of plush forest coveting lake & lagoon's wraparound 465 waterfront footage at the headwaters of prestigious Clear Lake's highly acclaimed Gold Coast deemed the 'Riviera of the Midwest. 2 fully-loaded abodes featuring all 0-VOC green interiors & never-sprayed exterior for optimum health, unique Main Manor and huge separate luxury Man Cave, Light & Sound Therapy throughout, Spring Rhody Nest among Beloved, Towering Deciduous & Pine Trees featuring a rare Shag Bark Maple and a Historical Landmark Flowering Tulip, palpable Sacred Healing Energy documented by all former incumbants with additional apparent support by Nobel Prize nominee's aquatic research in Lake Anne, i.e. 'Legendary Healing Water,' & otherwise some of the Last Clean Natural Spring Water on Earth, test results posted within. Best of both worlds via direct access to bustling Clear Lake. Expect the Climb. Sorry, currently off market June 2021 due to fires and other issues at our only destination of interest. Inquire within given an offer we can't refuse.
The Big Picture: Aerial Video Tour
Spectacular Yearly Rhododendron Video Tour
Resplendent Rhododendrons Photo Tour
Estate Grounds Video Tour
Still Photos, Info [scroll down for interior photos & links to Clear Lake Gold Coast comps]
Printable Brochure
Contact Info
See *More info, videos, info on water, etc.* linked at bottom
This website was designed so anyone anywhere in the world can make a confident offer without an onsite visit
Truly Sacred: The Light Awaits You Here ~ Priceless
One Thing I Learned Here Pitching My Listening Into The Light ~ Hoping to Attract New Owners with an Interest in Listening, et al. See The Stories of Tarajories for more of what awaits you here.
The Stories of Tarajories [presentation in process]
For the update on what I learned here. You Can Do It 2
Airports, Education, & Points of Interest
Getting to be a real celebrity hang-out: Justin Bieber [& others] Enjoys Clear Lake 2015+ with nameless celeb property owners adjacent & Gold Coast
~ More Photos, Videos, Info on Precious Water, et al ~
~ Contact Information ~
The Neighborhood ~ Enjoy your privacy OR a bustling social scene pdf ~ from previous listing
Location, Location, Location pdf from previous listing ~ more interesting info
~ All Music & Demonstrations, Photos, Most Videos, Text, & Web Design (c) S. Gregor Rice with Evan, both in heartfelt farewell,
~ should we reconsider with an offer we can't refuse ~